IPad has just been announced the fifth generation of IPad, and it has new name called IPad Air a.k.a IPad 5. this 5th generation of IPad powered by new specs and new things about body design, the IPad Air is powered by the new A7 with M7 motions co-processor made by Apple it's self which is claimed faster than the old IPad 4.
Apple IPad Air 2013 has slimmer body about 7.5mm and even lighter 469gr than old brother. the resolution of the screen is not different from the elder and also the screen large too, the Apple IPad Air has 9.7 inches screen with IPS LCD technology and Retina Display 1536 x 2048 pixels. The new fresh thing is also the design tha it adopted the Apple IPad Mini design.
And with all of these new features unfortunately we miss the printID technology as available in the IPhone 5S and 5C, but we also still have smart cover and new GPU PowerVR 6 Series. the Apple IPad Air will also have internal storage from 16GB up to 128GB and as usually it has two model wifi and wifi + cellular.
Apple IPad Air Prices and Release Date
It will be released and available for you in the next 1 November and will have variety price tags according to the model and storage. and let's see the color option for this Apple IPad Air, it has 3 colours, silver, white and space grey.
The Prices are depends on you to buy start from $499 for 16GB variant, $599 for 32GB, $699 for 64GB and $799 for 128GB and all these price tags are for Apple IPad Air Wifi only model.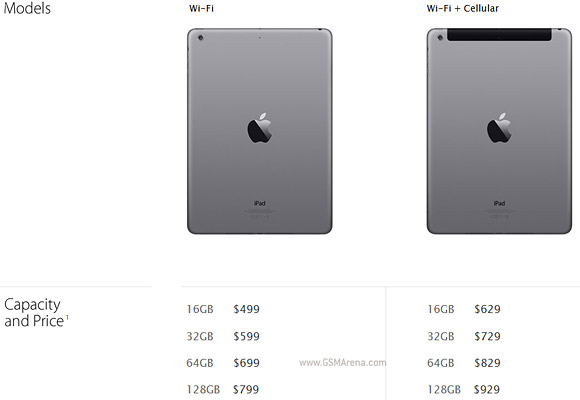 And for the Wifi and cellular model we have $629 for 16GB, $729 for 32GB, $829 for 64GB and $929 USD for the largest internal storage 128GB.