LG Optimus F7 a Mid Phone from LG
So long not see LG make their new Android devices or phones, since they announced LG Optimus G2 several month ago we haven't hear other info from LG. And this time LG is rumored that they make some fresh stuffs in their Android phone line up. LG is making LG Optimus L9 II, Optimus F7 and, one important rumor that they are also rumored to make the next
LG Nexus 5
a corporation with Google as always.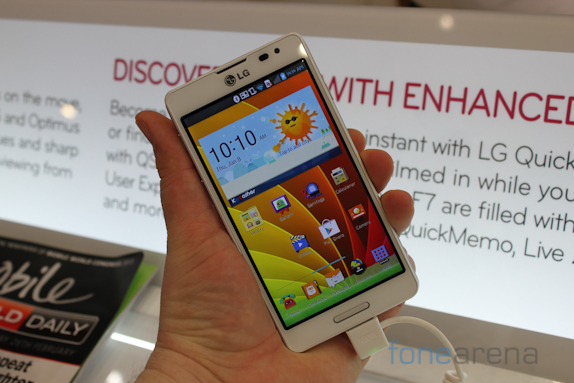 So Let's read about the LG Optimus F7. The LG Optimus F7 is still rumor, The LG Optimus F7 will have 4.7 inches true HD IPS LCD screen, corning gorilla glass,
LG Optimus
F7 also powered with dual core processor from Qualcomm with 1.5 GHz, Adreno 320 and will improved with the 2GB of RAM. for camera LG Optimus F7 has weapon 8MP camera with secondary included, 2540 mAh battery, and it will run on newest Android OS 4.2 Jelly Bean.
LG Optimus F7 looks so special, source said that
LG Optimus
F7 will bring fresh features and design, the rumor said that LG Optimus F7 will be launched in the time of Christmas holiday, that is special packaged when people are celebrating Christmas.
LG Optimus F7 Price
Although it's rumored that it will available in Christmas, but there are also strong source claimed that this phone will available soon in this or next month. And I think this Optimus F7 is a budget smartphone that has reachable price. So you will get it with worthy price.
Seeing the specifications and features it seems that LG Optimus F7 is the same rivals with
Sony Xperia SP
,
Samsung Galaxy S4 mini
, HTC M4, LG Optimus L9 II etc. And about the price there hasn't been available yet officially and we hope it will not be above Xperia L price (under $300).